Premium

Features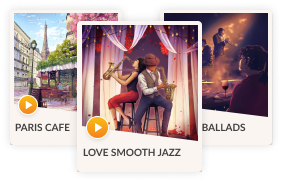 Unlock All Channels
Get unlimited access every day to all of the JAZZRADIO.com channels and be the first to hear new music added to your favorite genres.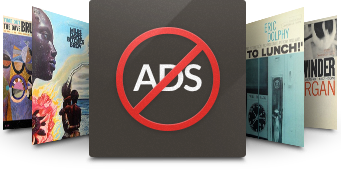 Absolutely No Advertisements
Keep your groove going with no commercial interruptions and enjoy all of your favorite channels without hearing or seeing advertisements.
Higher Quality Audio
Listen to CD-Quality audio streams with JAZZRADIO.com Premium. That's twice the quality as the free options! Compare the sound quality and hear the difference for yourself.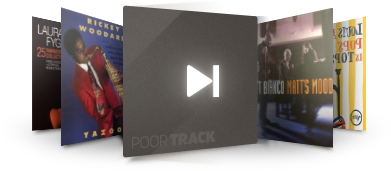 Skip Tracks
Our curators are always on the lookout for the best tracks to include on your favorite JAZZRADIO.com stations. However, sometimes, you want to skip a song. JAZZRADIO.com Premium membership allows you to skip more tracks, to enhance your listening experience.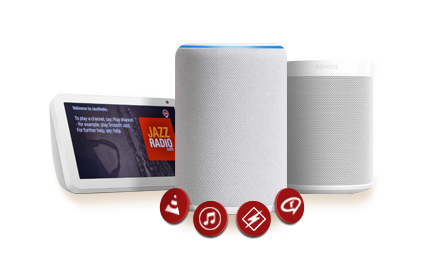 Stream via Smart Speakers & External Players
Premium subscribers can stream their favorites via Amazon Alexa, players including Sonos, Squeezebox, Denon, Phillips, Pioneer, or any that support vTuner or TuneIn. You can also use audio players like Apple Music, Winamp, VLC, and others. Google Home support coming soon too.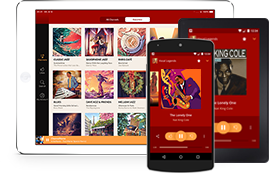 Outstanding Portability
Premium works with our suite of native mobile apps for iOS, Android, and Kindle Fire. You can also access premium streams using almost any third-party hardware or software player of your choice.

Access to our Entire Network!
JAZZRADIO.com is now part of our network along with the following Internet Radio services - so your Premium Membership will work on their channels too!
What Our Premium Members are Saying
Thus far the best Jazz App I have found. Thank you, keep up the good work!

JAZZRADIO.com has superior depth and variety... so glad I stumbled upon it!

I have enjoyed your music very much over the years...keep it up!

Best online jazz radio station ever!! One of the best features of Premium is being able to use it on RadioTunes.com and DI.FM too. So you pay nothing extra for an outstanding quality and enormous diversity!
Common Questions
What is a Premium subscription?

When you create a free account, you are allowed to stream at a respectable audio quality, but with commercial interruptions and you are limited to our daily random selection of free channels. Premium offers even higher audio quality, commercial-free music, with access to all channels, for a low monthly fee.

Premium members are connected to preferential servers and receive access to our dedicated Premium support team. They are also allowed to access our streams on hardware players like Sonos and Squeezebox, and desktop players such as iTunes, VLC and many others.

Try a free 30-day Premium trial to experience the benefits yourself.

How do I listen on the website?

The easiest way to listen is by visiting the home page and clicking on a tune-in link next to any channel. If you are not a premium subscriber, you will be limited to the selection of free daily channels provided.

How much does Premium membership cost?

Plans are available for as low as:

$8.00
1-month subscription

$84.00 ($7.00 per month)
1-year subscription

$120.00 ($5.00 per month)
2-year subscription

Sales Tax may be applicable; varies by location.
Are all channels included when I upgrade to Premium?

Absolutely – you get access to all music channels on our entire network, in fact.

Our network includes all channels on DI.FM, RadioTunes, JAZZRADIO.com, ROCKRADIO.COM, ClassicalRadio.com and ZenRadio.com.

Which payment options do you accept?

We accept Visa, MasterCard, American Express, Discover, PayPal, and iDEAL (available in the Netherlands).

Is the connection secure when paying for Premium?

All billing operations are performed over a secure connection so that your personal information remains confidential.

How am I billed?

As a subscription service, we automatically bill your credit card, bank account, or PayPal account, depending on your subscription term. You will receive an email confirmation whenever a payment is made. Your subscription will automatically renew unless you set it otherwise in your account area.

Which company will bill my credit card, bank account, or Paypal account?

Digitally Imported, Inc. is our billing provider, and is the name you will see on your billing statement.

What is your cancellation policy?

You can cancel at any time, for any reason, and you will not be billed again. Once cancelled, your Premium membership will remain active until its expiration date.

Which audio formats and bitrates do you stream?
Can I share my Premium account with friends or family?

Your support enables us to continue building a better service. We encourage everyone who enjoys our service to pay for their own Premium account. Your Premium account can be used in multiple places or on multiple devices, as long as only one connection is active at any given moment.

Our system detects multiple connections by the same account and will disconnect all additional listeners.

Which hardware players can I use with my premium Service?

You can use any hardware player that accepts custom URLs. Here are some of the most common hardware players used by our Premium listeners: Sonos, Squeezebox, Denon, Pioneer, or any players that support vTuner or TuneIn.

Can I use my premium account in a commercial establishment?

Our current license does not allow for public streaming, so such usage is in violation of our Terms of Use. As our streaming service is consumer focused, our policies currently reflect that. We do not yet offer any business-level packages that would grant permissions to stream our channels in public places or cover any public performance royalties which the venue would be liable for. We are working on expanding our services, and hope to offer a Premium Package for business customers sometime in the future.
For other answers not related to Premium Service, please visit our help page